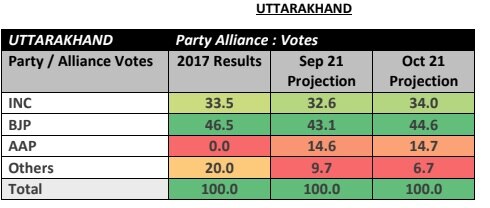 ABP C-Voter Survey for Uttarakhand Election 2022: While Assam, West Bengal, Kerala, Tamil Nadu, and Puducherry are set to undergo the assembly elections in the coming months, Uttarakhand will have its polls happen next year with Bharatiya Janata Party completing 5 years of governance.
Recently, Uttarakhand went through a major overhaul as it witnessed a change of guard thrice in a short span.
ALSO READ | ABP C-Voter Survey: Will Punjab Congress Crisis Benefit AAP, SAD-BSP Alliance In Election? Know Latest Projections
CM Trivendra Singh Rawat resigned after questions were raised against some of his decisions by fellow party members. Tirath Singh Rawat then took over the post barely days ahead of BJP completing 4 years of governance in the state. Soon after Tirath Singh Rawat also had to resign making way for Pushkar Singh Dhami.
Ahead of the Uttarakhand assembly election slated to happen next year, BJP is trying to maintain its stronghold in the state while Congress and AAP raise issues of misgovernance and instability.
As the tussle for power continues, ABP News in partnership with C-Voter conducted a survey to understand the mood of people in Uttarakhand.
Vote Share
On the basis of the latest projection, BJP is expected to gain 44.6 per cent of votes, a marginal increase of 1.5 per cent as compared to the September projection. On the other hand, INC is projected to gain 34 per cent of votes in the upcoming polls – a gain of 1.4 per cent from the previous estimate. AAP may be able to make inroads as the party is projected to secure a 14.7 vote percentage although it is not seeing much gains as compared to the September projection.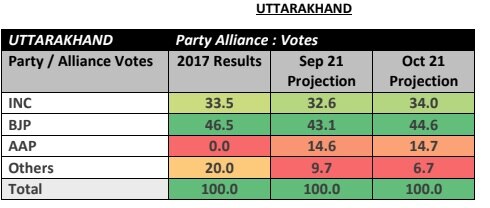 Range Of Seats
As per the new projection, Congress is making some gains with the INC coalition expected to win 21 to 25 seats, an increase from 19 to 23 seats predicted last time. This comes as a concerning update for BJP as the party is projected to win 42 to 46 seats, as compared to 44 to 48 seats in the September projection. AAP is expected to secure only 0 to 4 seats out of the total 70.

As per the estimates, BJP continues to have an edge over Congress despite the change of guard. Meanwhile, AAP still has a long way to go in terms of winning the voters' trust.
[Disclaimer: The present opinion poll/ survey was conducted by CVoter. The methodology used is CATI interviews of adult (18+) respondents with random numbers drawn from standard RDD and the sample size for the same is 98000+ across 5 states (UP, Uttarakhand, Punjab, Goa, and Manipur) & the survey was carried out during the period 4th September 2021 to 4th October 2021. The same is also expected to have a margin of error of ±3 to ±5% and may not necessarily have factored in all criteria.]