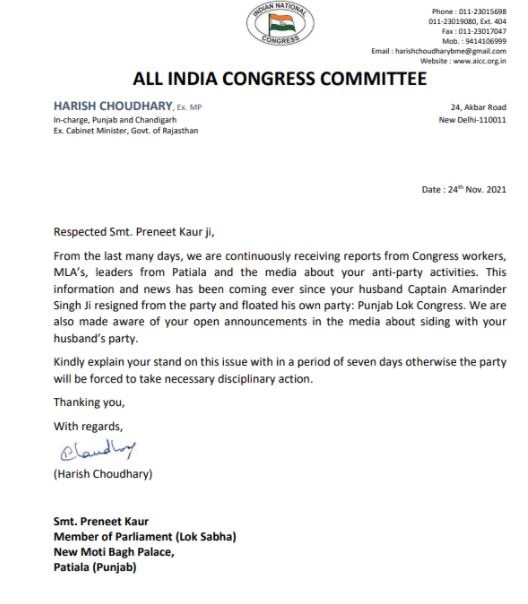 Chandigarh: The Punjab unit of the Congress party on Wednesday accused former Chief Minister Captain Amarinder Singh's wife Preneet Kaur of anti-party activities and gave her an ultimatum of seven to explain her stand on the issue of his husband's exit from the party and her future plans.
In a letter written by Congress' Punjab in-charge Harish Choudhary, the party has sought an explanation from the Lok Sabha MP and has warned of "disciplinary action" against her.
"From the last many days, we are continuously receiving reports from Congress workers, MLAs, leaders from Patiala and the media about your anti-party activities. This information and news have been coming ever since your husband Captain Amarinder Singh ji resigned from the party and floated his own party: Punjab Lok Congress," the letter issued by Chaudhary read.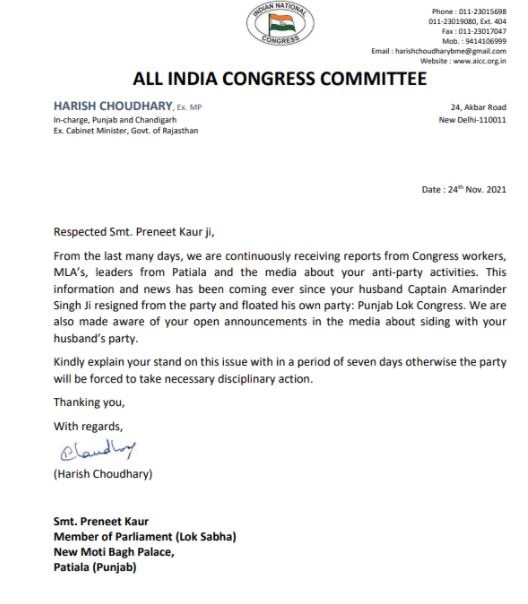 "We are also made aware of your open announcements in the media about siding with your husband's party," it said.
"Kindly explain your stand on this issue within a period of seven days. Otherwise, the party will be forced to take necessary disciplinary action," the letter added.
After Singh's resignation from Punjab Chief Minister's post and 'humiliated' exit from the Congress, Preneet Kaur had said that she had no intention to quit the party at that time.
Preneet Kaur represents the Patiala constituency in the Lok SabhaHowever, the MP got on Congress' radar after she hinted to join the new party floated by his husband recently for the upcoming Punjab Assembly Elections.
"Captain Amarinder Singh has always stood by the commitment he makes. Main apne parivaar de naal haan (I am with my family)," Preneet said at an event recently.
Meanwhile, Singh has thanked Prime Minister Narendra Modi for repealing the three contentious farm laws and said he looked forward to working closely with the BJP-led Centre for the development of farmers.
ALSO READ | SP, AAP Alliance For UP Polls? Meaningful Discussion Held, Says Sanjay Singh After Meeting Akhilesh
Singh also said that his party is ready to hold talks with the BJP on seat-sharing for the forthcoming Assembly elections in Punjab.
On November 2, Singh resigned from the Congress and sent a letter to party President Sonia Gandhi. He then floated a new party called Punjab Lok Congress.
He had quit as the chief minister in September after a power tussle with state Congress chief Navjot Singh Sidhu.