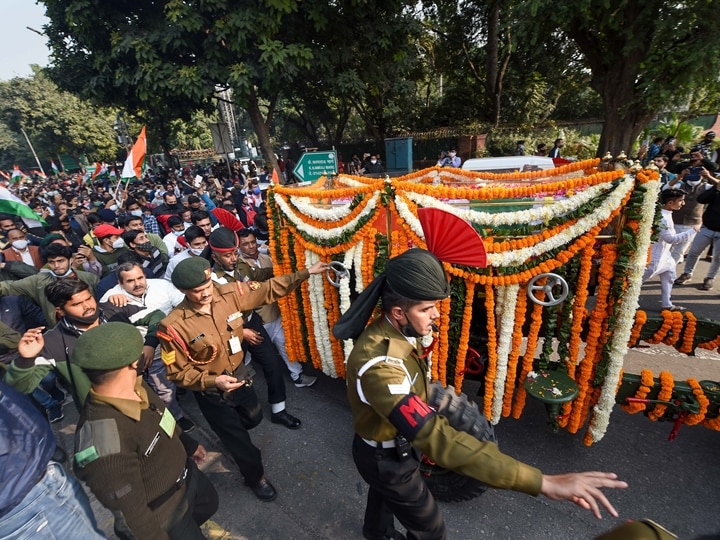 New Delhi: Chief of Defence Staff General Bipin Rawat and his wife Madhulika Rawat were cremated at the Brar Square Crematorium in Delhi Cantonment on Friday with full military honours. General Rawat was accorded a 17 gun salute as per laid down protocols.
Hundreds lined up the streets as the truck carrying the coffins made its way to Delhi's Brar crematorium amid chants of 'Vande Mataram' and 'General Rawat amar rahe'.
General Rawat and Madhulika Rawat are survived by their two daughters, who performed traditional rituals before the caskets of their parents were moved to a gun carriage.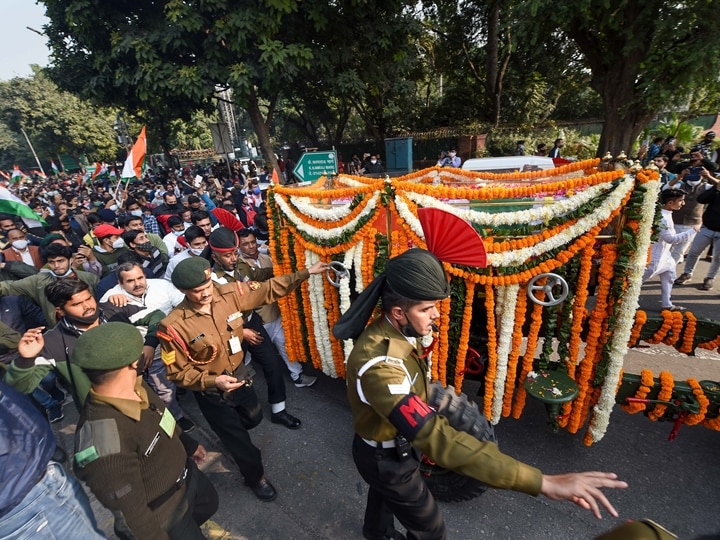 Military personnel from all the three services marched with the funeral procession as drummers played along in tribute to General Bipin Rawat.
CDS General Rawat, his wife Madhulika Rawat, Brigadier Lakhwinder Singh Lidder and 10 others died in a helicopter crash in Tamil Nadu on Wednesday. The Indian Air Force Mi-17V-5 helicopter crashed near Coonoor in Tamil Nadu shortly after it took off from Sulur Air Base in Coimbatore.
The lone survivor, Group Captain Varun Singh, is currently undergoing treatment at a military hospital in Bengaluru.
WATCH | जनरल रावत और उनकी पत्नी को बेटियों ने दी मुखाग्नि@romanaisarkhan @ShobhnaYadava @neeraj_rajputhttps://t.co/smwhXUzF4C#IAFChopperCrash #IAFHelicopterCrash #BipinRawat #CDSGeneralBipinRawat pic.twitter.com/xLCGO46dnM


— ABP News (@ABPNews) December 10, 2021
Mortal remains of General Rawat, his wife and 11 others were flown on Thursday night from Sulur to Palam Air Base, where Prime Minister Narendra Modi and Defence Minister Rajnath Singh led the country in paying homage by placing wreaths and offering flowers. 
Earlier in the day, mortal remains of General Rawat and Madhulika Rawat were brought to their residence at 3 Kamraj Lane in Delhi. Home Minister Amit Shah, National Security Advisor Ajit Doval, Congress leader Rahul Gandhi, Chief Minister from Rawat's home state Uttarakhand, Pushkar Singh Dhami, Delhi Chief Minister Arvind Kejriwal, Uttar Pradesh Chief Minister Yogi Aditynath were among the dignitaries who paid their tribute to the CDS at his residence in Delhi. 
Military commanders of Sri Lanka, Bhutan, Nepal and Bangladesh joined the final rites of General Bipin Rawat.
Brigadier Lakhwinder Singh Lidder was cremated at Brar Square Crematorium earlier in the day with full military honours. 
General Rawat had served as the Chief of the Indian Army from December 17, 2016, to December 31, 2019. He was appointed as India's first Chief of Defence Staff on December 31, 2019. Madhulika Rawat, native of hahdol in Madhya Pradesh, was the president of Army Wives Welfare Association.
Tri-Service Inquiry Into IAF Chopper Crash
On Thursday, Rajnath Singh told Parliament said the IAF had ordered a tri-service inquiry into the chopper crash, which would be led by Air Marshal Manvendra Singh. The 'black box', or flight data recorder, of the ill-fated helicopter was recovered on Thursday and the data will be examined by the panel.
"IAF has constituted a tri-service Court of Inquiry to investigate the cause of the tragic helicopter accident on 08 Dec 21," the Indian Air Force said in a statement.
"The inquiry would be completed expeditiously & facts brought out. Till then, to respect the dignity of the deceased, uninformed speculation may be avoided," it added.