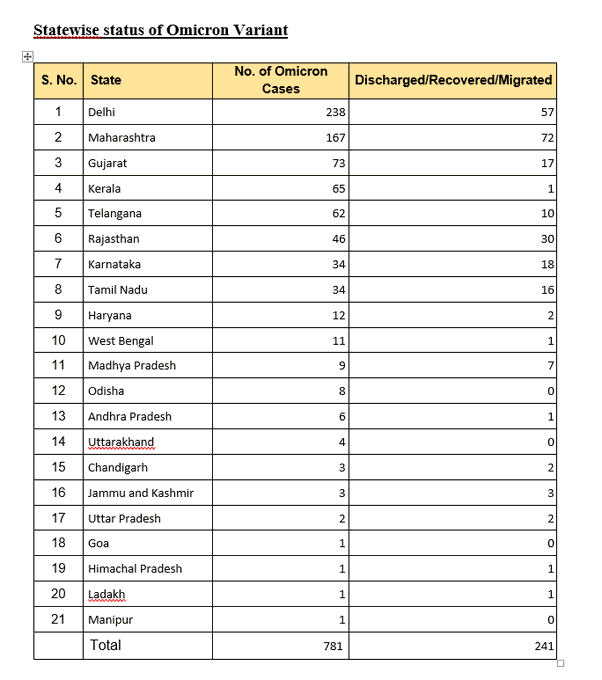 New Delhi: India saw a significant rise in Omicron cases as the tally increased to 781 on Thursday. So far, Delhi has reported 238 Omicron cases while Mumbai has recorded 167 cases out of the total 781 omicron cases in the country from 21 states, according to the latest update on Thursday. 
Delhi witnessed a massive 50 percent rise in Covid cases with 496 fresh cases while Mumbai recorded a 70 percent raise with a fresh 1,377 Covid cases when last reported. There was one death reported in both cities.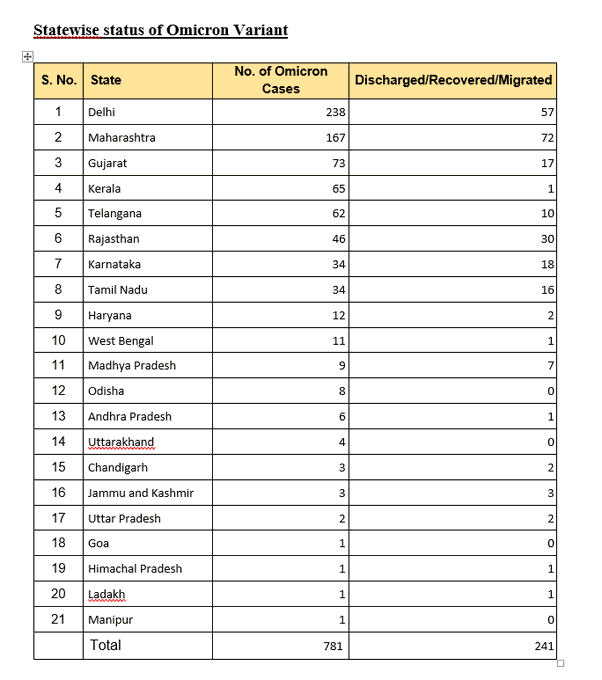 READ | Weather Update: Rain Expected In North India, Brace For Chilly New Year As Mercury Likely To Dip Further
Around 9,195 new Covid-19 cases have been reported in the last 24 hours and the active caseload stands at 77,002, according to the government data. Active cases account for less than 1 percent of total cases, currently at 0.22 percent; the lowest since March 2020.
The recovery rate is currently at 98.40 percent; the highest since March 2020.  Total Recoveries stand at 3,42,51,292. 
So far, 143.15 crore vaccine doses have been administered under Nationwide Vaccination Drive in the country.
Daily positivity rate (0.79 percent) less than 2 percent for the last 86 days and Weekly Positivity Rate (0.68 percent) less than 1 percent for the last 45 days.  67.52 crore tests have been conducted so far. 
The Kejriwal-led Delhi government imposed curbs and restrictions as the infection rate stayed above the critical mark for two days in a row.
Mumbai imposed a night curfew and various other restrictions across the state on Friday during the festive season amid Omicron variant threat.
Check out below Health Tools-
Calculate Your Body Mass Index ( BMI )
Calculate The Age Through Age Calculator