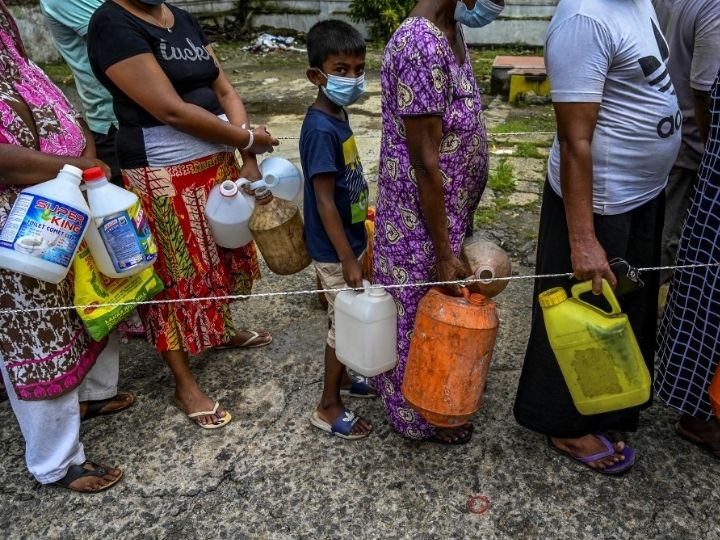 New Delhi: With inflation record high, food prices skyrocketing, and its coffers running dry, Sri Lanka's economic crises are deepening, and the country appears to be staring at a "humanitarian crisis". 
According to World Bank estimates, 5 lakh people in Sri Lanka have fallen below the poverty line since the pandemic struck, which it described as a "huge setback equivalent to five years' worth of progress".
Ratings agency Fitch downgraded Sri Lanka last month over fears of a sovereign default on its $26 billion foreign debt, according to an AFP report.  
The country's economy contracted by 1.5 per cent in the third quarter of 2021, the Census and Statistics Department (CSD) said last month.

There are fears that Sri Lanka could go bankrupt this year. 
The government, however, said Tuesday the country will not default on its international debt as it announced a USD 1.2 billion economic relief package.
Finance Minister Basil Rajapaksa said Sri Lanka would duly pay the international sovereign bond of USD 500 million due in a fortnight, a PTI report said.
Sri Lanka's economic crisis started after pandemic hit the island nation, along with the entire world. Tourism, which usually contributes more than 10 per cent of the island nation's GDP, was badly hit and there was a cascading effect. 
However, while the prolonged Covid crisis was the immediate trigger for the economic slowdown, there were other reasons too. These include high spending by President Gotabaya Rajapaksa's government, tax cuts that have hit state revenues, foreign exchange reserves hitting rock bottom, and also massive debt repayments to China, as pointed out by a report in The Guardian earlier this week.
Earlier, as inflation started to soar last year after the Sri Lankan rupee crashed, causing a spike in food prices, President Rajapaksa had declared an economic emergency on August 30, 2021, to contain the situation. The state of emergency under the Public Security Ordinance was meant to prevent hoarding of essential items. 
Four months down the line, even basic goods are now unaffordable for many people, and even previously well-off families are struggling to make ends meet. 
The government had appointed a former army general as commissioner of essential services, giving him the power to seize food stocks hoarded by traders and retailers, and ensure essential items were sold at prices set by the government, but little was done on the ground to lift people out of their misery, the Guardian report said.
Is Sri Lanka Heading Towards Bankruptcy?
Sri Lanka owes more than $5 billion in debt to China. It is paying in instalments the additional $1 billion loan it took from Beijing last year to help tide over its acute financial crisis, according to reports.
And it's not only China, but there are other markets also in the government and private sectors that Sri Lanka owes money to. 
"We have high debt from three countries — China, Japan and India. The total outstanding for this year would be USD 6.9 billion," FM Rajapaksa, the younger brother of President Rajapaksa and Prime Minister Mahinda Rajapaksa, was quoted as saying in the PTI report.
Sri Lanka's huge foreign debt burden is one of the main reasons for its economic crisis.
As of November, foreign currency reserves available with the country were just $1.58 billion, down from $7.5 billion when Rajapaksa became the president in 2019, the report said.
Opposition MP Harsha de Silva, who is also an economist, told Parliament in December that the country's foreign currency reserves would be minus $437m by January, and the total foreign debt services would be $4.8 billion between February and October 2022. "The nation will be totally bankrupt," Sri Lankan newspaper Daily Mirror quoted him as saying.
De Silva said he was not trying to scare anyone but it was a reality that "all imports will come to a halt, the entire IT system will be shut down including the google map as we will not be able to pay for it".
The government has however always insisted that it can meet the obligations.
Minister Ramesh Pathirana has said they would try to settle past oil debts with Iran by paying them with tea. Sri Lanka plans to send $5m worth of tea every month to Iran to save "much needed currency", The Guardian reported.
Central Bank Governor Ajith Nivard Cabraal has also said that Sri Lanka would be able to pay off its debts "seamlessly".
Former central bank deputy governor WA Wijewardena, however, told The Guardian that there were high chances that the country would default on repayments, and that would have catastrophic economic consequences.
"When the economic crisis deepens beyond redemption, it is inevitable that the country will have a financial crisis too. Both will reduce food security by lowering production and failing to import due to foreign exchange scarcities. At that point, it will be a humanitarian crisis," he warned.
The finance minister, meanwhile, said Tuesday they have a plan in place. He said the new $1.2 billion (229 billion Sri Lankan rupees) economic relief package includes payment of a special monthly allowance of Rs 5,000 to 1.5 million government employees, pensioners and differently-abled soldiers from January 2022.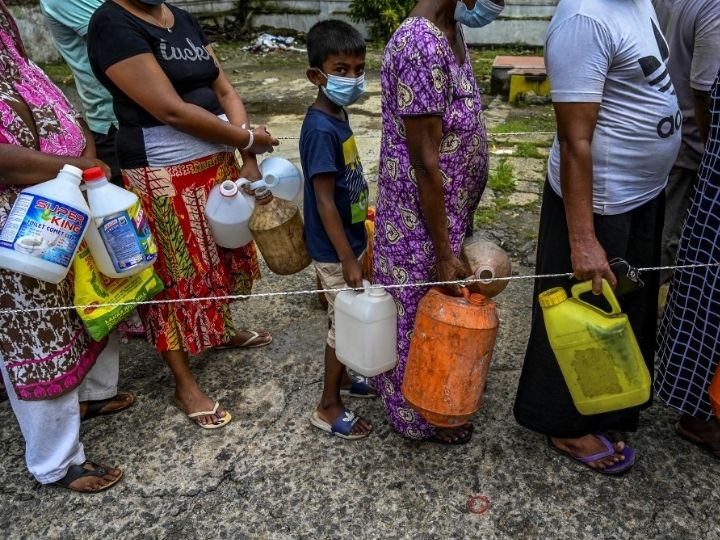 Impact Of Tourism Loss 
The tourism industry has been hit hard by the pandemic.
According to the World Travel and Tourism Council, more than 2 lakh people have lost their jobs in the travel and tourism sectors since the beginning of the pandemic. 
The loss of foreign revenue from the sector has been substantial.
From over $7.5 billion in 2019, the forex reserves had dropped to around $2.8 billion in July 2021, The Hindu reported in September last year.
With the Sri Lankan rupee depreciating, the price of food items has risen too. For even its basic food supplies, the island nation depends heavily on imports. 
Is There A Food Shortage?
Queues can be seen across the country of people queuing up to buy essential goods, several media reports have highlighted. 
Prices of rice, pulses, bread, sugar, vegetables, fish have all risen several times, and many low-income families, especially daily-wage earners, have been complaining for long about being unable to afford them.
The situation is such now that even those better off are rationing their daily food intake.
Quoting a man who works as a chauffeur in Colombo, The Guardian report said he has now taken up a second job and his family now eats two meals every day, and not three.
He said his village grocer now makes ten 100g packets out of a 1kg milk powder packet because no one can afford to buy the full packet.
The crisis was only aggravated by the government's April ban on the use of chemical fertilisers in farming. The Rajapaksa government wanted to make Sri Lanka the world's first country with a 100 per cent organic agriculture sector. Caught unawares, farmers resisted the move and warned that this dramatic, overnight shift could severely impact food production, The Hindu reported last year.
Quoting tea expert Herman Gunaratne, the report said he believed this could halve the production of tea and other crops, and that there could be a food crisis worse than the current one.
Tea producers had warned of a 50 per cent drop in production, the report said.
The government, however, made a U-turn in late October, but that created a new problem for the farmers — no help to cover the high cost of imported fertiliser, The Guardian reported.
"The government has no money for fertiliser subsidies. Many of us farmers are reluctant to invest money because we don't know if we will make any profit," farmer Ranjit Hulugalle was quoted as saying.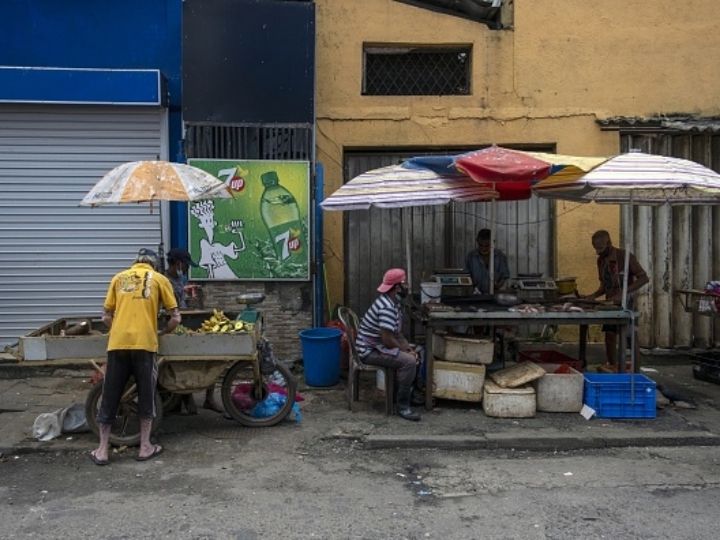 How The Govt Has Responded To The Economic Crisis
Speaking in Parliament in December, MP de Silva said the "only one solution" to tide over the crisis is to seek assistance from the International Monetary Fund (IMF).
He said home grown solutions would not help, and only the IMF can revive the country's economy.
Then Agriculture Secretary Udith Jayasinghe also told reporters late December that authorities may have to seek foreign aid to help feed the needy.
"We may have to borrow grains such as corn from friendly countries and think of rationing food so that mothers and the sick can be fed. Others may have to make sacrifices," he said, hours before being replaced by another official.
President Rajapaksa's office did not say why he was sacked, AFP reported.
The central bank, meanwhile, appealed for foreign currency, including loose change that people might have with them after returning from trips abroad.
It had earlier last year prohibited traders from exchanging more than 200 Sri Lankan rupees for a US dollar, and also stopped traders from entering into forward currency contracts.
The government has since been taking temporary relief measures to ease the situation.
Early December, Finance Minister Basil Rajapaksa visited India and held talks with his Indian counterpart Nirmala Sitharaman and India's External Affairs Minister S Jaishankar.
A total of 1.9 billion dollars of assistance was reportedly discussed, besides a 500 million dollar credit line for fuel and 400 million dollar swap.
Similar talks were held with China and Bangladesh too. 
About the debt obligations, the finance minister said Tuesday the International Sovereign Bond (ISB) holders would be invited to renegotiate. "We have to repay USD 1,000 million in July, they will be asked if they would be willing to reinvest," PTI quoted Basil Rajapaksa as saying.
He also said farmers facing a crop loss by about 25-30 per cent this season would be offered subsidies, and each family in the plantation sector would get 15 kg wheat every month.
Rajapaksa assured that the relief package would not contribute to further inflation, and that there won't be any new taxes.
About seeking a bailout package from the IMF, the minister said the government has not taken any decision on this yet.