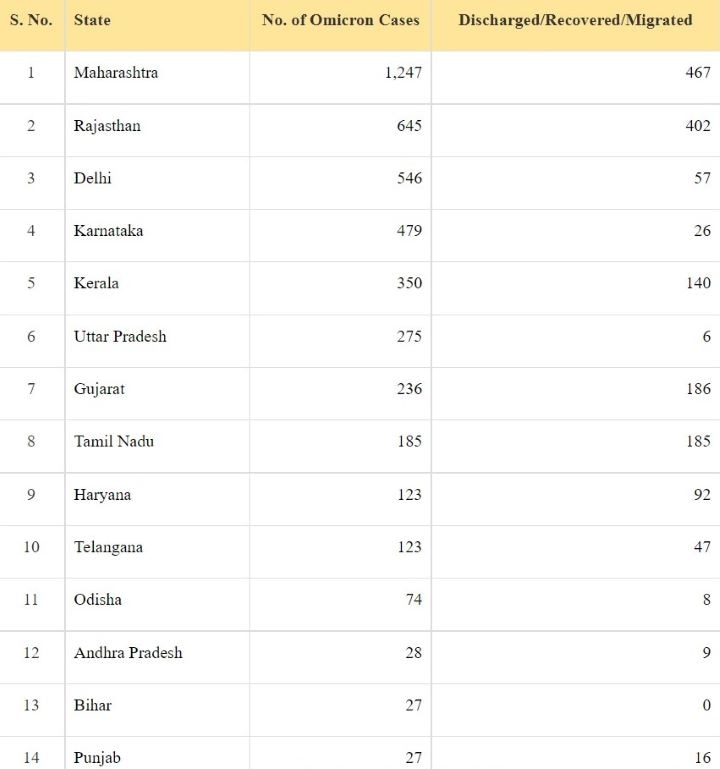 New Delhi: After maintaining an upward trend in daily Coronavirus cases, India has registered a slight dip in Covid cases On Tuesday. The country has clocked 1,68,063 fresh cases, 69,959 recoveries in the last 24 hours while 277 people succumbed to the virus.
India's Omicron tally is now at 4461 with Maharashtra and Rajasthan reporting the most number of cases of the highly transmissible variant.
India's active caseload currently stands at 8,21,446, Active cases stand at 2.29% while the country's recovery rate is currently at 96.36%.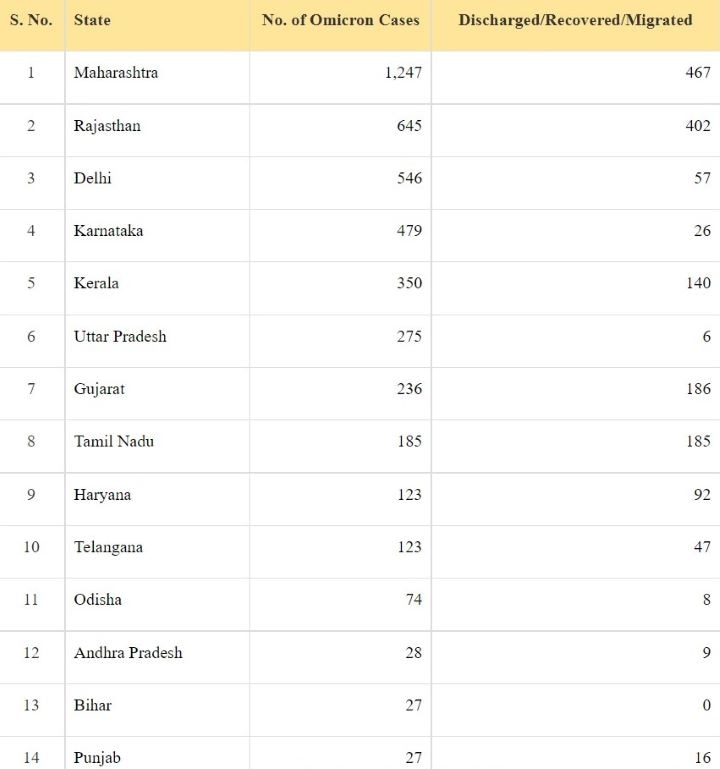 Maharashtra
Maharashtra registered a decline in Covid infections as the state on Monday recorded 33,470 new coronavirus cases, 10,918 less than the previous day, taking its tally to 69,53,514, while eight fresh deaths linked to the infection pushed the toll to 1,41,647.
An official said Maharashtra also reported 31 new cases of the Omicron variant of coronavirus, raising their count to 1,247. Of the 31 new cases of the highly contagious variant, 28 were reported from Pune city, two are from Pune rural and one from Pimpri-Chinchwad industrial township.
With addition of new cases and deaths, the state's COVID-19 tally jumped to 69,53,514, while the toll rose to 1,41,647, the department said.
Of the 33,470 new cases and eight deaths in the state, 13,648 infections and five fatalities were reported from Mumbai city alone.
The state had reported 44,388 COVID-19 cases and 12 fatalities on Sunday.
 The number of coronavirus cases in Tamil Nadu increased by over 1,000 in the last 24 hours, taking the total number of infections in a single day to 13,990 while 11 more fatalities took the death toll to 36,866 on Monday, a health bulletin said.
Tamil Nadu
On Sunday, the state had recorded 12,895 new coronavirus cases in a single day.
Nine passengers who came from Bangladesh and two each from Sri Lanka and UAE were infected by the virus besides those from the states of West Bengal with 8, Assam with 3, Kerala with 2, Andhra Pradesh with 2; Chhattisgarh, Karnataka, Bihar and Jharkhand with one each among the fresh cases, the state health department bulletin stated.
Chennai reported a staggering 6,190 fresh coronavirus cases, the highest in the state followed by Chengalpattu with 1,696 and Thiruvallur with 1,054 new cases. Mayiladuthurai registered the lowest cases in the state at 13 while Coimbatore and Kancheepuram saw 602 and 508 fresh infections, respectively.
No new Omicron case was detected across Tamil Nadu on Monday, the bulletin said.
Check out below Health Tools-
Calculate Your Body Mass Index ( BMI )
Calculate The Age Through Age Calculator