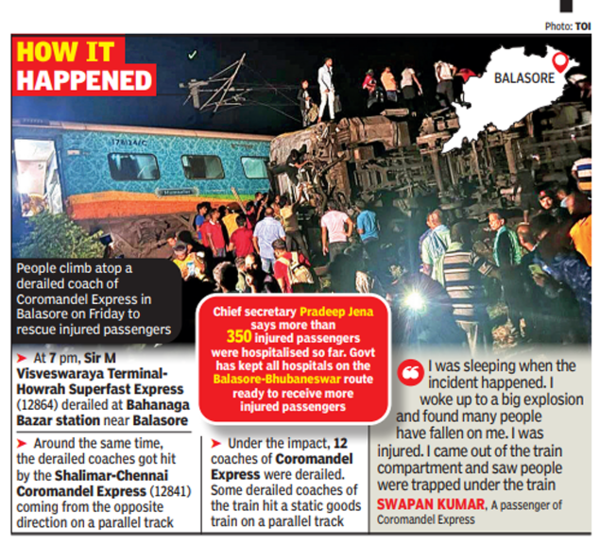 BHUBANESWAR: Over 200 passengers died and around 900 wounded in a deadly accident involving three trains at Bahanaga Bazar station in Balasore district of Odisha on Friday evening as authorities mounted a massive rescue operation right through the night involving multiple agencies.
Officials said fatalities could mount as many passengers are still trapped in the debris. DG fire services Sudhanshu Sarangi said 120 bodies recovered, the death toll may go up further. Odisha revenue minister Pramila Mallik, who visited the train mishap site, said the deaths will be in hundreds.
Follow live updates
As the casualty count kept mounting as the night wore on, multiple agencies joined the search for survivors and bodies trapped in the heap of mangled coaches. "Only after we scour the entire debris, which could take a while, will we know the final toll. As of now, it looks like the numbers will go further up," a senior railway official said.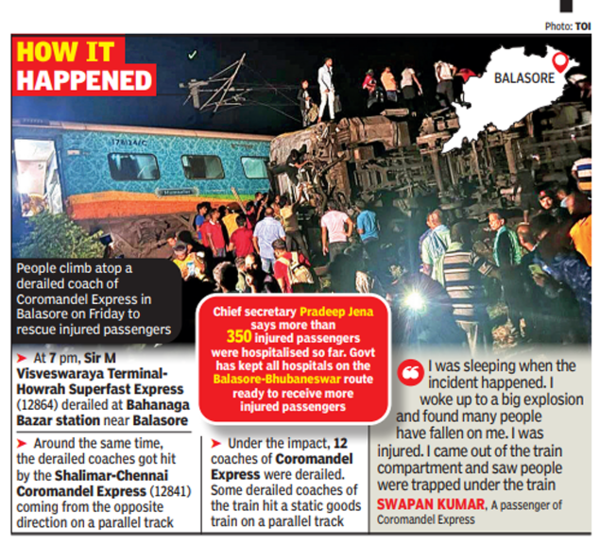 Railway authorities said two bogies of the Sir M Visveswaraya Terminal-Howrah Superfast Express got derailed first near Bahanaga Bazar Station of Kharagpur division of South Eastern Railway, about 140 km from Kharagpur around 7.10 pm. 04:02
Coromandel Express and Yeshwantpur-Howrah trains derail in Odisha's Balasore, over 300 injured, several dead
Around the same time, Chennai-bound Shalimar-Chennai Coromandel Express (12841) coming from the opposite direction on a parallel track, hit the derailed bogies on its tracks at very high speed.
Under the impact, 12 coaches of Coromandel Express got derailed. Some derailed coaches of the train hit a stationary goods train on a parallel track.
1/15
Coromandel Express derails in Odisha, several injured
As the rescue teams reached an hour after the accident, locals pulled out the injured from mangled bogies.
50 were thrown out of train through broken windows, coach doors
Such was the impact of the crash that around 50 passengers were thrown out through the broken windows and doors of the coaches. By the time rescue teams reached the accident site, volunteers had pulled out many of the injured from the debris.
Balasore MP and former Union minister Pratap Chandra Sarangi, among the first to reach the site, termed the pileup "an unprecedented tragedy". "Hundreds are dead and injured. The scale is unimaginable," he said. 02:26
'Three trains involved': Odisha Chief Secretary on Coromandel train accident
"I was asleep in my berth when a big explosion happened, followed by people falling on me. I somehow came out of the train compartment. I saw many people trapped under a pile of coaches and screaming," said Swapan Kumar, a survivor from the Coromandel Express.
The railway ministry announced ex gratia of Rs 10 lakh to the next of kin of those who died, Rs 2 lakh to the grievously injured and Rs 50, 000 to those with lesser injuries. Railway minister Ashwini Vaishnaw said he was on his way to the crash site. "My prayers for the speedy recovery of the injured and condolences to the bereaved families. Rescue teams mobilised from Bhubaneswar and Kolkata. NDRF, state government teams and Air Force also mobilised. Will take all hands required for the rescue ops," he said.
Odisha chief secretary Pradeep Jena said hundreds of people had been hospitalised. "The government has kept all hospitals on the Balasore Bhubaneswar route ready for this emergency." After taking stock of the rescue operation, CM Naveen Patnaik said, "I will be flying there early tomorrow to personally oversee the effort."
Four teams each of the National Disaster Response Force (NDRF) and the Odisha Disaster Rapid Action Force were sent to join the rescue operation. The railways and the Odisha government set up helplines for information on the passengers.
"Deeply anguished to know about the loss of lives in an unfortunate rail accident in Balasore, Odisha. My heart goes out to the bereaved families. I pray for the success of rescue operations and quick recovery of the injured," President Droupadi Murmu tweeted.
Helpline numbers
The helpline numbers are: Howrah – 033-26382217, Kharagpur – 8972073925 & 9332392339, Balasore – 8249591559 & 7978418322, Shalimar – 9903370746, Santragachi – 8109289460 & 8340649469, Bhadrak – 7894099579 & 9337116373, Jajpur-Keonjhar Road – 9676974398, Cuttack – 8455889917, Bhubaneswar – 06742534027, Khurda Road – 6370108046 & 06742492245.
Watch Odisha train tragedy: Death toll climbs to over 230 in one of India's worst train accidents