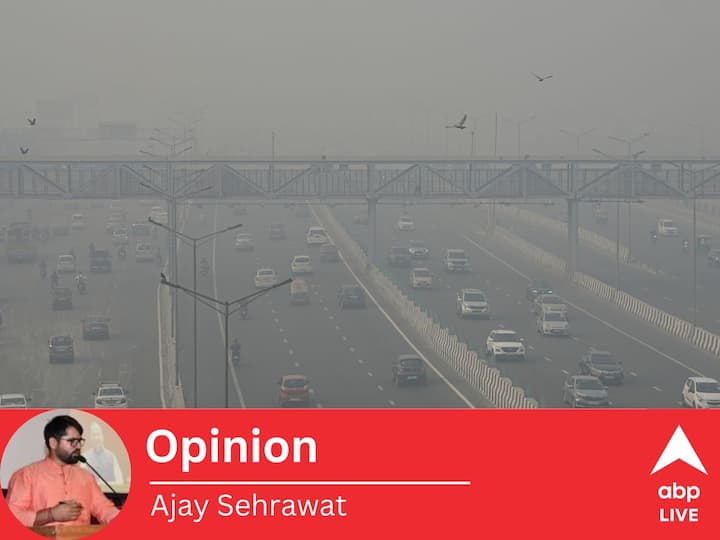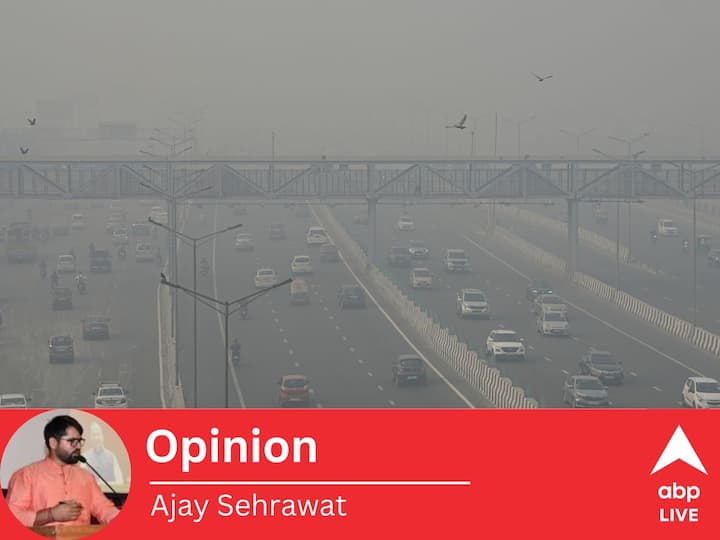 Vehicles ply on a road near Akshardham Temple amid low visibility due to a thick layer of smog, in New Delhi. ( Image Source : PTI )
In India, rapid industrialisation has wrought intense levels of air pollution that present serious social, economic, and political problems. While leaders across India have responded with measures designed to improve air quality, our Delhi Chief Minister and Aam Aadmi Party (AAP) national convener Kejriwal seems indifferent. Delhi's AQI level is standing at a chronic 560+, and all we keep seeing as the front-page headlines is either an update on the worsening AQI level of Delhi, or vague advertisements by the Kejriwal government on topics like switch on and off car initiative. 

While the health of the people of Delhi is deteriorating each day, especially that of children and the elderly, the Kejriwal government has been miserably failing to curb pollution. Despite such an alarming situation, when the CM should sit down with the local municipal authorities and solve the issue, he is involved in a never-ending tussle with them over financial and political issues. 

Not denying the fact that even other state leaders are facing significant challenges in balancing economic growth with environmental and social welfare, as an honest taxpayer and resident of Delhi, I see our CM being absolutely ignorant of the hazardous air pollution. He conveniently makes statements like Bhagwant Mann and Kejriwal are not responsible, but the whole of North India is. He further suggests that it's not the time for blame game, and I fail to understand where this wisdom goes when it comes to throwing allegations at the opposition?

Back when the AAP was not the ruling party in Punjab, he frequently raised questions at the government and held it responsible for stubble burning leading to the pollution in Delhi – I wonder what  changed? He chooses to stay quiet as now AAP is in power? Can he now help us understand what steps has the Bhagwant Maan- led Punjab government taken from January to November to curb the pollution in Punjab? 
Where Did Rs 1,347 Crore Go?
The Punjab government got Rs 1,347 crore and 1.25 lakh machines from the Central government to contain pollution. Where did the money go? How did the machines go missing? 

As per the available statistics, the cases of stubble burning have reduced in Haryana by 30%, and in UP by 28%. But Punjab's stubble burning has increased by 34%. Why is that? 

The incidents of stubble burning in Punjab CM Bhagwant Mann's assembly constituency Sangrur were 1,266 last year, which has increased to 3,025 this year. If there is such a huge increase — 139 percent — in the assembly area of the CM himself, how will he prevent this in the whole of Punjab?

Haryana has used bio-decomposers in 5 lakh acres of land, while UP has used this in 1.38 thousand acres. Kejriwal's Punjab had only 7,500 acres under bio-decomposers. And Delhi? Only 80 acres — though it has about 20,000 acres of land where cultivation is done, should it not be seen as a complete failure?

Arvind Kejriwal kept insisting that bio-decomposers are the only solution for curbing the pollution related to stubble burning in Punjab and Delhi. According to available figures, he brought it from Pusa for 3.79 lakh, spent about Rs 64.29 lakh for sprinkling the same, and Rs 24 crore to advertise this. Isn't the data shocking on its own to make us all wonder? If the case was vice-versa, we wouldn't be inhaling poison like we are right now.

Breathing Is Injurious To Health In Delhi
Every seventh person in Delhi today is troubled by respiratory disease. Every second child is suffering from lung problems, but the CM even escapes the responsibility of taking up a department. I reckon with responsibility comes accountability.

The Kejriwal government had built a smog tower worth Rs 20 crore and spent massively on advertisement, suggesting the idea of creating even more. In reality, they hardly built any, and half of the time even the existing one was shut.

Delhi is inhaling air that is equivalent to smoking 50 cigarettes a day, and every child's life is getting shorter by two years every year. Yet, nothing substantial has been done to actually control the air pollution. 

The decision to close schools was too late. The Odd-Even scheme failed miserably in the past and now thousands of construction workers and labourers have become unemployed as soon as GRAP IV was implemented. None of the schemes are thoughtfully designed. 

I suggest we start taking our health seriously, and take necessary cautions on a personal level as it doesn't seem the Kejriwal government will.

The author is a Delhi BJP spokesperosn.

[Disclaimer: The opinions, beliefs, and views expressed by the various authors and forum participants on this website are personal and do not reflect the opinions, beliefs, and views of ABP News Network Pvt Ltd.]